Legal Ethics in a Nutshell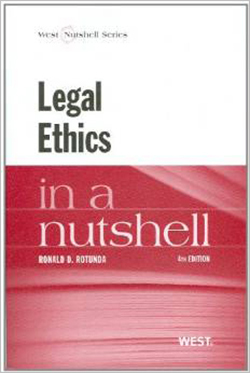 Legal Ethics in a Nutshell
Author: Rotunda, Ronald D.
Edition: 4th
Copyright Date: 2013
Publication Date:

November 19th, 2012

ISBN:

9780314282248

Subject: Professional Responsibility/Ethics
Series: Nutshells
Type: Overviews
Description: Many law professors aim to probe deep ethical issues in class. But they also need to cover the material that the Multistate Professional Responsibility Examination requires. The Rotunda Nutshell fulfils that need as it digests the Model Rules in an engaging, analytical, and often critical way. In a surprisingly pithy manner, this book places the Rules in an historic context that lets the student understand problems with prior versions of the Rules and the Model Code. The Nutshell also analyzes the American Law Institute's Restatement of the Law Governing Lawyers, Third. This approach frees up precious class time for important normative issues. And, this Nutshell helps your students come up with better answers to your Socratic questions than you anticipated. This book has proved so popular as an explanation of the basic principles of legal ethics that it has been translated into Japanese.