Law School Legends Audio on Criminal Procedure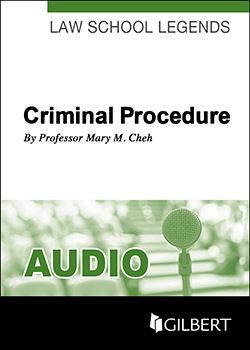 Law School Legends Audio on Criminal Procedure
Author: Cheh, Mary M.
Edition: 2nd
Copyright Date: 2021
Publication Date:

September 22nd, 2021

Subject: Criminal Procedure
Series: Law School Legends Audio Series
Type: Audio Lectures
Description: With Law School Legends, you'll get a brilliant law school professor explaining an entire subject to you in one simple, dynamic lecture. The Law School Legends make even the most difficult concepts crystal clear. You'll understand the big picture, and how all the concepts fit together. In this lecture, professor Mary Cheh of George Washington University Law School covers the basic Criminal Procedure course, which is primarily investigative criminal procedure in schools where they divide the course into two topics. One of investigative criminal procedure, and the other of criminal procedure adjudication.