A Short & Happy Guide to Being a Lawyer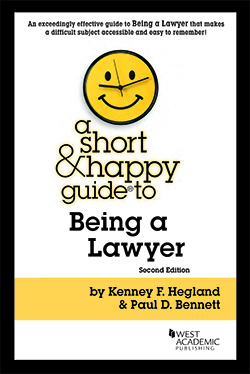 A Short & Happy Guide to Being a Lawyer
Authors: Hegland, Kenney F. / Bennett, Paul D.
Edition: 2nd
Copyright Date: 2021
Publication Date:

April 14th, 2021

ISBN:

9781647084127

Subject: Career Success
Series: Short & Happy Guides
Type: Overviews
Description: A Short and Happy Guide to Being a Lawyer is a concise and entertaining tour of some basic lawyering skills for law students and new lawyers. The authors – two experienced law professors – use humor and apt quotes to introduce (or refresh) readers in many of the basic competencies that lawyers need to acquire. This short guide offers insights into interviewing, counselling, legal writing, trial preparation, trial skills and other stuff with some "Advice for All Seasons" – all designed to help young lawyers approach the many challenges and rewards of being a lawyer.

Some of this is dry stuff. This guide will lighten the load with bad jokes, spiffy quotes, and existential musings. The guide doesn't cover everything a new lawyer needs to know, but it covers a lot.