The Guide to Belonging in Law School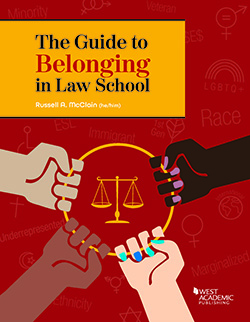 The Guide to Belonging in Law School
Author: McClain, Russell A.
Edition: 1st
Copyright Date: 2020
Publication Date:

July 9th, 2020

ISBN:

9781683283799

Subject: Academic Success
Series: Career Guides
Description: The Guide to Belonging in Law School is the only book of its kind and should be required summer reading before law school. It accomplishes two discrete goals. First, it requires readers to engage in an authentic, rigorous, mini-law school semester involving reading, studying, five Socratic classes (through the connected website), exam preparation, and exam writing. Second, the book provides a foundation for students from marginalized groups to recognize and manage both subtle and explicit barriers that can impede their progress. Law schools should recommend this book to every incoming law student, especially those from groups underrepresented in the profession. Professor McClain is a nationally-recognized expert on inclusiveness and minority student achievement in law school.