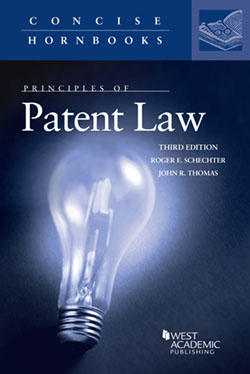 Principles of Patent Law
Authors: Schechter, Roger E. / Thomas, John R.
Edition: 3rd
Copyright Date: 2019
Publication Date:

April 8th, 2019

ISBN:

9780314276681

Subject: Intellectual Property
Series: Concise Hornbook Series
Type: Hornbook Treatises
Description: The new edition of this leading text on patent law is an indispensable tool for both students and practitioners. The authoritative exposition of the law includes thoughtful analysis of the intricacies of the America Invents Act, in-depth discussion of nearly twenty recent Supreme Court decisions on patent law, and thorough treatment of all the leading Federal Circuit precedents. The volume also contains detailed materials on international issues, trade secret law, and specialized topics including plant patents, design patents and the Hatch-Waxman Act. The accessible prose, numerous illustrative examples, and humorous asides make the book user-friendly even for those who lack previous exposure to the field.