Sum and Substance Audio on Conflict of Laws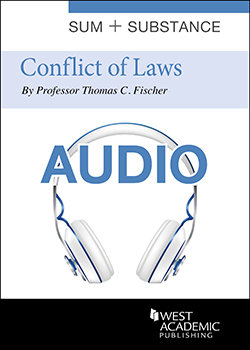 Sum and Substance Audio on Conflict of Laws
Author: Fischer, Thomas C.
Edition: 4th
Copyright Date: 2007
Publication Date:

August 27th, 2007

Subject: Conflict of Laws
Series: Sum and Substance Audio
Type: Audio Lectures
Description: This convenient and effective audio lecture examines the conflict of laws in a clear, succinct, timesaving format. It includes informed exam tips to maximize your performance. Section titles discuss, amongst others: Definition, History and Sources of Law, Domicile, Jurisdiction, Incidental Issues/Jurisdiction, Notice, Transfer/Federal Courts, Choice of Law-In General, Escape Devices, Governmental Interest Analysis/Tort, Choice of Laws/Contract, Statutes of Fraud, Usury, Worker's Compensation Awards, Property, Trusts and Estates, Domestic Relations Law, Recognition of Judgments, Defenses, Enforcement, and Review of Judgments.