A Short & Happy Guide to Being a Law Student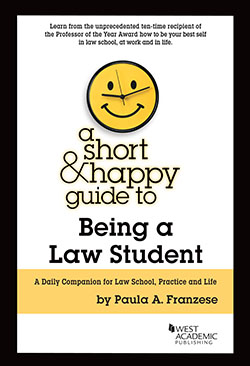 A Short & Happy Guide to Being a Law Student
Author: Franzese, Paula Ann
Edition: 1st
Copyright Date: 2014
Publication Date:

March 20th, 2014

ISBN:

9780314291073

Subject: Academic Success
Series: Short & Happy Guides
Type: Overviews
Description: A Short & Happy Guide to Being a Law Student is a must-read whenever worry or doubt creep in. In this volume you will find essential wisdom for the study of law and life. Learn from the unprecedented ten-time recipient of the Professor of the Year award how to be your best in and out of class, how to prepare for exams, how to succeed on exams, how to put your best foot forward in a job interview, how to find teachers to inspire you, what to do in classes that leave you uninspired, how to cope with stress and how to create value in everything you do.

Learn more from the author in this short video.