Antitrust Simulations: Bridge to Practice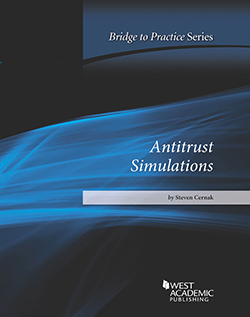 Antitrust Simulations: Bridge to Practice
Authors: Cernak, Steven J. / Cernak, Steven J.
Edition: 1st
Copyright Date: 2014
Publication Date:

November 7th, 2013

ISBN:

9780314288042

Subject: Antitrust Law
Series: Bridge to Practice
Type: Skills
Description: In practice, abstract antitrust concepts must be applied to specific factual settings. In practice, those facts don't arrive pre-packaged as they do in opinions and casebooks. Cernak's Antitrust Simulations: Bridge to Practice provides true-to-life documents and other sources from facts from real-world antitrust matters in all the important substantive areas. Short summaries of the law provide a base for students and enough material for traditional Socratic method teaching. The result is a book that can be used to teach students the law and how it is practiced in the real world.